These mini gluten-free cheesecakes are perfect for when you don't need a full cheesecake! They're so much easier and they freeze great. They're also grain-free. Perfect for Mother's Day, the 4th of July and parties.
First us all – sorry to my vegan + paleo readers! These mini cheesecakes aren't for you. But I've got you covered with these options.
Vegan Cheesecake Recipe – maple-sweetened and so perfectly creamy!
Vegan Chocolate Cheesecake – this one is SUPER rich, deep chocolaty and decadent.
Vegan Pumpkin Cheesecake – this one tastes more similar to a traditional cheesecake than the others. A favorite for Thanksgiving!
Mini Peanut Butter Cheesecakes – I've also tested these with sunflower seed butter for a paleo version that tastes so close to the peanut butter one!
Vegan Turtle Cheesecake – this uses the vanilla cheesecake as a base and adds a bunch of vegan caramel sauce, chocolate and pecans because… why not? 😀
As much as I love cheesecake, I rarely make them. At least not the full-sized ones.
If I made a cheesecake just for the heck of it, I'd eat it all. I used to make them for parties and get-togethers but when you don't have a car, those things get heavy after about 10 minutes of walking.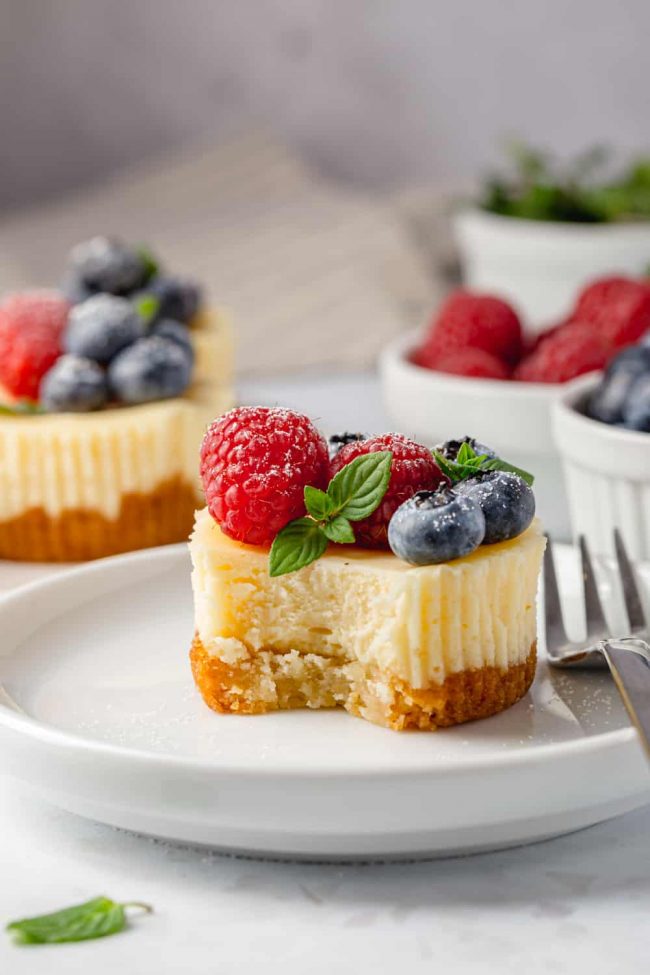 Not only that, but full-sized cheesecakes are so fussy. I almost always mess them up.
But mini cheesecakes? They're pretty difficult to ruin as long as you don't forget to line the muffin pan with muffin liners, which I may or may not have done the first time.
Also, these mini cheesecakes freeze wonderfully well! They taste just as good post-freezing so you could even make them ahead of time if you've got room in your freezer.
By the way, I'm totally in awe of anyone with space in their freezer. I think there must be a defective gene in my family because ours are always packed. Always!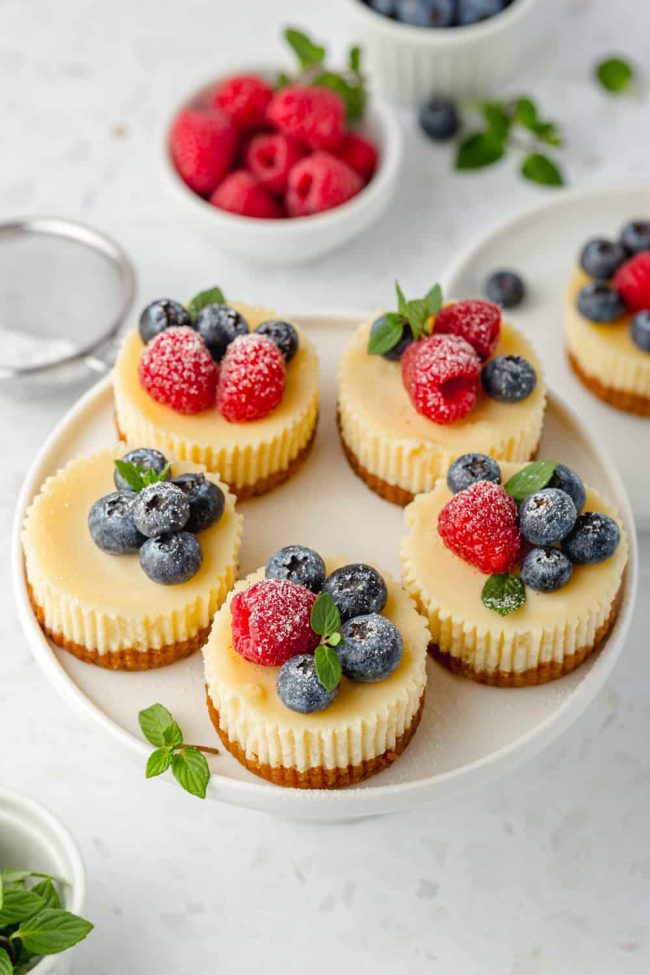 As far as grain-free crusts go, I think this one is pretty awesome. Pre-baking them prevents a soggy crust, which seems all too common in grain-free and gluten-free almond flour-based crusts.
After baking the cheesecakes, the crust isn't exactly crisp, but it's far from soggy!
If you don't want to use almond flour, use any nut flour or nut meal you'd like. I've tried hazelnut meal and that was delicious.
Then I tried making a chocolate hazelnut version by adding some cocoa powder to the cheesecake filling. That sounded like such a simple change but it came out horribly. Definitely don't do that.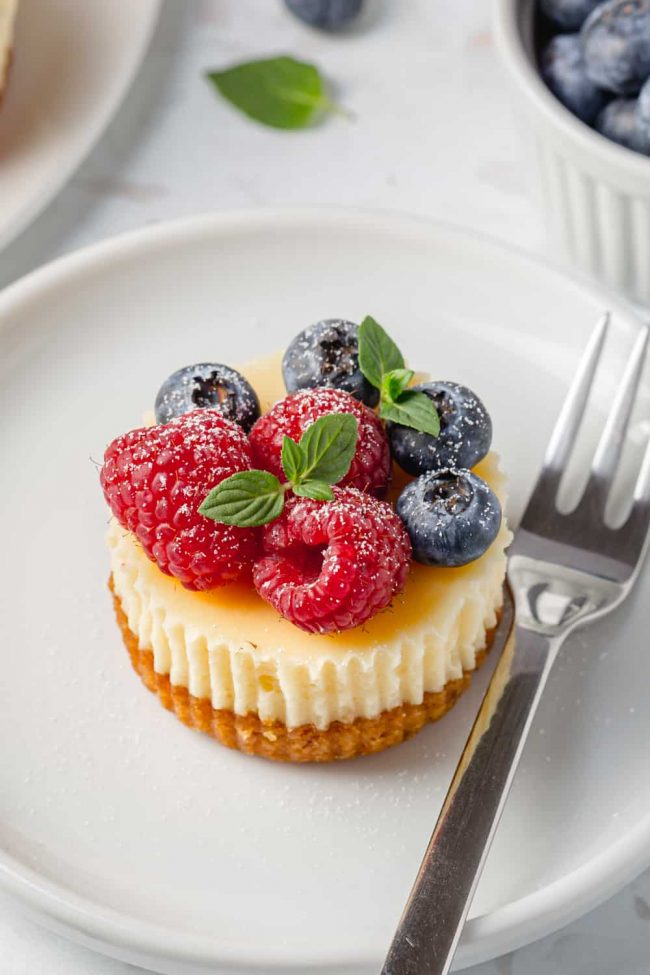 Almond flour, sugar and butter on their own don't taste all that exciting so I added some lemon zest to liven up the crust. If you don't want to use lemon zest, add some lime zest, almond extract, or something. These mini cheesecakes just aren't the same without it!
If you're not trying to impress anyone with your dainty cheesecakes, I suggest drowning these mini cheesecakes in this honey sweetened strawberry sauce. 🙂
It's delicious, just not so pretty. Though I suppose you could smash / puree the strawberries first a bit to make it look nicer.
This blueberry sauce, sweetened with maple syrup, would also be awesome on top of these mini cheesecakes.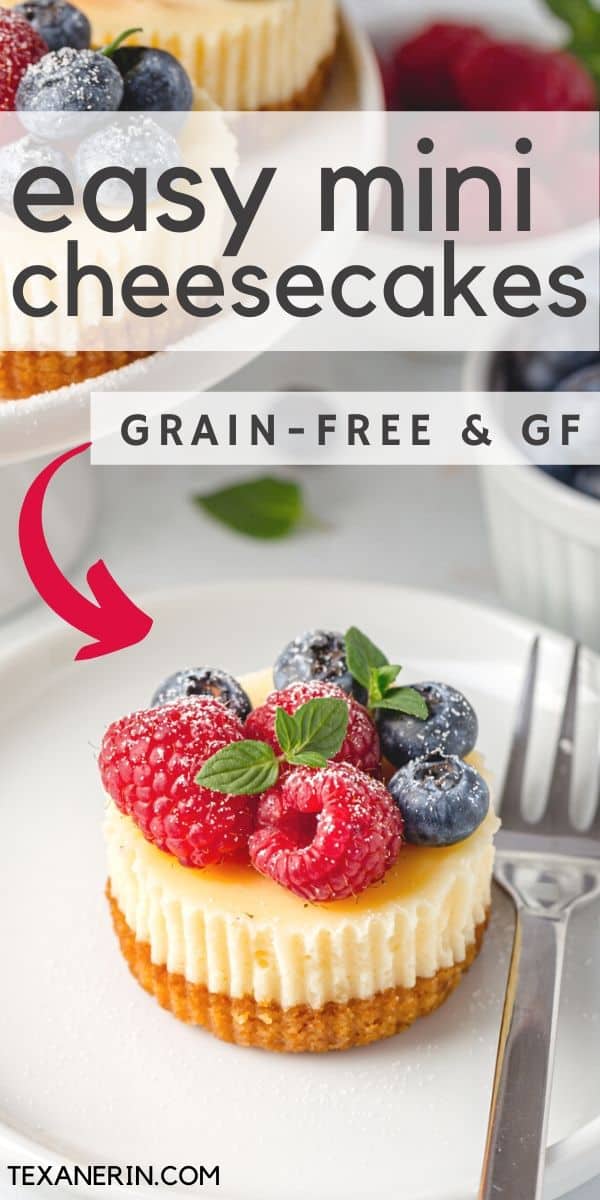 If you live outside of North America, you might have wondered why cream cheese-based recipes often don't come out correctly. That's because the cream cheese sold elsewhere (at least in Europe), has extra whey in it so it's softer and can be spread on bread.
So if you don't have American style brick cream cheese (that comes wrapped in a foil package in a little box), then get 600 grams of cream cheese, place it in the center of a cheesecloth or tea towel, and wring out the liquid until you have 450 grams of cream cheese left.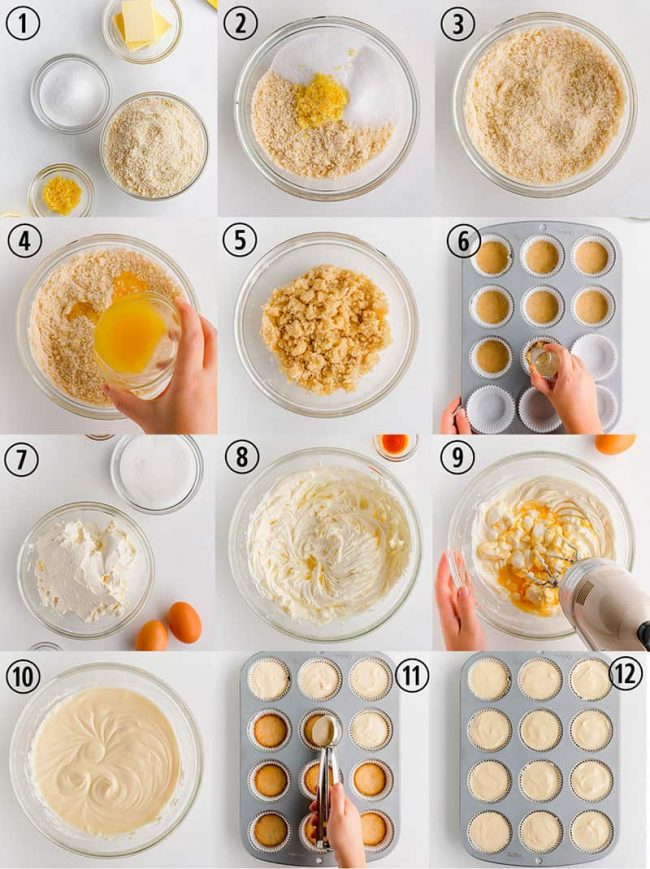 The big packages sold at Aldi, Lidl, etc. are 300 grams so it's perfect! Get 2 packages for this recipe.
Prefer a no-bake version? These Mini Gluten-Free No-Bake Cheesecakes with Chocolate Chip Cookie Crust look pretty awesome! And so very easy. And for something keto, try these keto cheesecake bites.
Photos updated 3/2020. Here's an old one: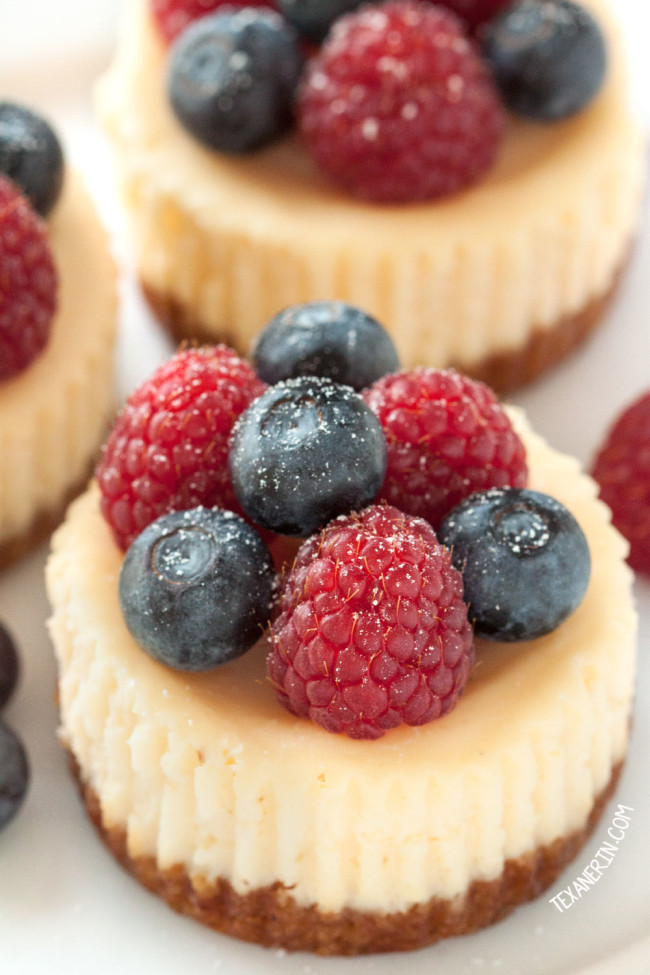 ❀Mini Cheesecakes (grain-free, gluten-free)

Prep Time: 20 minCook Time: 20 minReady in: 2:40 hYield: 12IngredientsFor the crust:1 1/4 cups (125 grams) blanched almond flour1/4 cup (50 grams) granulated sugar or raw sugarpinch of salt1 tablespoon lemon zest3 tablespoons (42 grams) unsalted butter, melted and cooled slightlyFor the filling:1 pound (450 grams) cream cheese11/2 cup (100 grams) granulated sugar or raw sugar1 teaspoon vanilla extractpinch of salt2 large (50 grams each, out of shell) eggs, room temperatureFor decoration:berries and powdered sugar, optionalDirectionsPreheat the oven to 350 °F (175 °C). Line a muffin pan with 12 muffin liners.Prepare the crust. In a medium mixing bowl, stir together all the dry ingredients, then stir in the butter and mix until thoroughly combined.Divide the mixture between the liners (18 grams or 3 1/2 teaspoons of mixture per liner) and lightly press down with the bottom of a shot glass.Bake for 10 minutes or until very lightly browned. Remove from the oven and cool for at least 10 minutes while preparing the filling.Using an electric hand mixer or a stand mixer fitted with the beater attachment, beat the cream cheese and sugar at medium speed until light and creamy. Add the vanilla and salt and beat until combined. Beat in the eggs on low, one at a time, and just until well incorporated. Do not over mix!Fill each liner about 2/3 full with the batter and bake for 10 minutes or until the centers of the cheesecakes don't jiggle when the pan is tapped. Open the oven door (at least 1 foot wide) and let the cheesecakes cool to room temperature – about 1 1/2 hours. For easiest removal, remove the paper liners now. They can also be removed after chilling, though a little more cheesecake may stick to the liners then.Chill for at least 2 hours before serving. Decorate with berries and dust with powdered sugar, if desired. Refrigerate for up to 4 days.NotesIf you live outside of North America and don't have American style brick cream cheese (that comes wrapped in a foil package in a little box), then get 600 grams of cream cheese, place it in the center of a cheesecloth or tea towel, and wring out the liquid until you have 450 grams of cream cheese left.
Source: My post on My Baking Addiction – Gluten-free mini cheesecakes
Permalink: https://www.texanerin.com/mini-cheesecakes-grain-free-gluten-free/
Read more: texanerin.com
Please follow and like us: